Dear New Born Mumma
,
A mother is born when a baby is born. Yes! You were a woman but today you are mom. This little soul is so empowered by nature that your life revolves around her. She beckons without knowing to lift her tiny finger, she twitches her lips without knowing she smiled but she knows your touch, she likes your lap and she rubs her eyes to say, it's time for bed.
Is she brainy? You wonder… Ah! Dear mom, your baby is in tune with you because she is in tune with nature. She is intuitive. She cannot talk but she knows to vibe. Her vibes reflect in her fragile movements. Did you learn to understand her?
Oh! You have a small problem? You are faced with warnings from your loved ones who want to school you and make you understand this small wonder. Let's just hear them out…
"With the baby … just forget a good night's sleep."
"Oh! Babies wail a lot at night …."
"My! My! Babies fall sick very often with every change in season … be careful …"
"Prepare yourself for messy times; diaper shopping and a whirlwind that will toss you around with nights full of baby sounds and days abound with little jobs … big jobs …. and some more jobs."
"Just practice popping out your eyes when all you want is to fall off to sleep and …. snnnnnnnnnnnnore."
Oh! These scary responses may be the reality of many but……

Write Your Own Baby Story
Yes! You can write your own baby story … which will be a lot more satisfying, enjoyable and much more cosy. She is your Little Miss teacher who will give you messages to follow and gestures to understand that it is easy to be a mother.
Are you wonder- struck with what I just said? But believe me I realized it early in life that our own disturbed vibrations disturb our environment in more ways than one. Yes! Our disturbing vibes have unsettling effects on the baby.
Let's understand this better with a live example. One morning my daughter began to howl amidst confusion as my helper did not turn up. I picked her up with a jerk that contained all my disturbances and she cried like hell. Immediately my neighbour walked in and carried her away and she became quiet. I rushed to be with her and again my baby began to cry. Oh! My heart broke when I realized that even our babies, like all mortals, want compassion when irked with little irritants of their own. I cried my heart out, calmed myself and peacefully made an appearance with a smile. My little one came into my arms, rested her head on my shoulder and went off to sleep. Since then I realized the power of our vibrations. But is there a way out of so many tumultuous times?

Meditation is The Mantra

The mantra for a peaceful innings with little ones takes just 15 minutes of your time in the morning and evening and is called MEDITATION. It gives us experiential wisdom of great vibes. Yes! If our vibrations are peaceful then we can actually turn around any situation. With meditation, we are in tune with only our peaceful true self. We just need to remember the basic rule of nature, "What you think is what you attract?"
Meditation helps you to give your hundred percent to the task at hand… something we have forgotten in present times where we are seen chasing time. Just look at the old granny who is all eyes and ears for the baby. She picks up the baby with care, talks to the little soul and with patience puts her to sleep. Time taken: 15 to 20 minutes.
But in comparison while picking up the baby we are reminded of the mobile that hides itself in the mess on the bed or the I-Pad that had too many windows open and the buzzing washing machine that reminded of all the nappies that needed attention.
The result: baby still awake, now irritable and most of everything is pending. Time taken: 30 minutes (of disorderliness).
Yes! Meditation puts everything in the right order and grants you with the age old virtue called patience.

Gel with Meditation
Meditation helps you to gel well with time, situations and people? Whoa! Life would be so hassle free. Yes! With meditation your mind is rested so it only responds and never reacts. You are able to create time as you don't have wasteful thoughts in your mind. You are at ease and your touch passes on great vibes to the baby. You are so strong with positive energy that your immune system becomes stronger and your baby is little Ms Strongest. You become intuitive with the baby as your heart knows to recognize the wants of the baby. Yep! You are all powerful.
Parenting is simply being your natural self. Isn't it so? Meditate to connect with nature and empower yourself with a great life ahead with your little bundle of joy; who croons to say: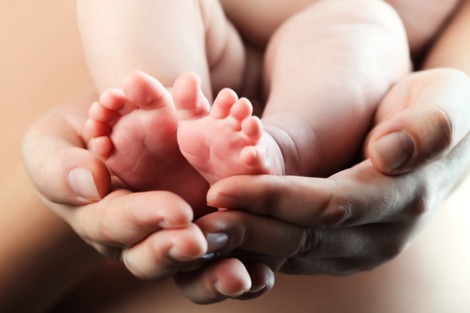 "My mummy is so warm,
She cradles me with charm,
When my little tummy hurts,
Her touch is not at all curt,
My mumma has a healing touch,
Oh! I love her so much."